Post by ~BD~ on Jan 10, 2010 20:22:00 GMT
First off, welcome to the Dunell Hills Police Department's forum. I'd like to personally thank you for stopping by and either working with us as an ally or joining our merry band of brigands as a new recruit.
As you see, the proboards default skin (what you are seeing now) is rather bland. A few of our members have cooked up some custom skins to make this message board look more fresh!
Changing your forum skin is easy.
Step 1:
You need to click the profile link in the top menu bar.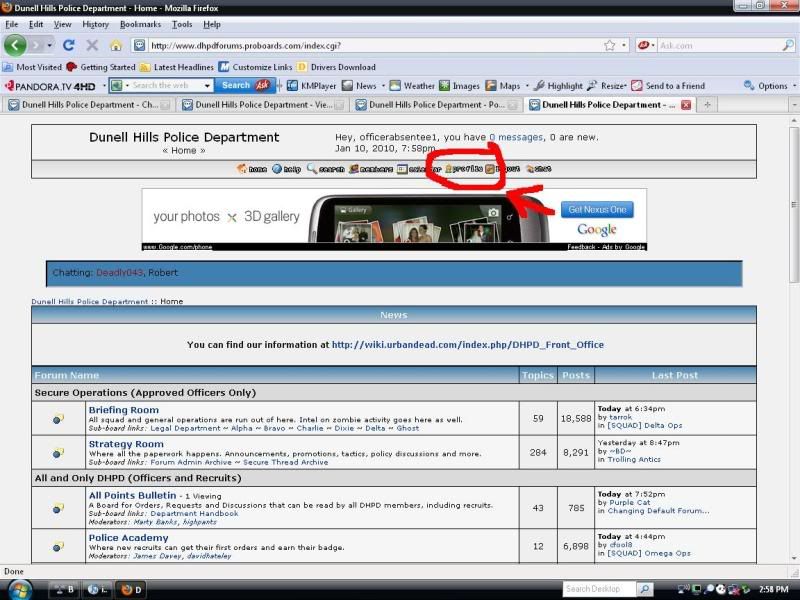 Step 2:
From the profile screen, select the modify profile button.
Step 3:
Scroll down until you see the
Account Preferences
subsection. There, you will find the
Select Skin
option. It would give you a drop-down menu with your choices.
There are only 3 different choices at the moment.
Look 1:
The default skin which looks exactly like the above screenshots. Pros of this skin are simplicity and visibility. Cons of this skin are the blandness and lack of eye-catching colors.
Look 2:
This skin was created by myself to mirror my Alma mater (The University of Cincinnati). Pros are the colors and eye-catching, cons are readability (white on black is a bit harder to pick up than black on white). The blue bar where the Briefing Room is appears whenever your cursor goes over a sub-board (cursor is invisible for the screenshot). Also has a new DHPD header at the top.
Look 3:
This skin was created by Bryn, and was the first alternative skin created. Pros- the colors are eye catching and soft, cons- readability sometimes an issue to some. There is also no "color highlight" like BD's skin. Also has a new DHPD header at the top.
Look 4:
This skin was created by BD for fun. Black text indicates that a thread has no new posts- and the same for the boards and sub-boards. Not pictured is a light blue highlight whenever the cursor goes over a section.
Whatever you choose, it is YOUR preference. I'm sure there will be more options as members pump them out. Hope this helps!
~BD~